u10sils For All
Hi, my name is Ian. I designed u10sils so I could enjoy meals on the go with clean and sustainable stainless steel cutlery, the kind I would want to use everyday. If you're a germ-a-phobe, an eco-warrior or someone who appreciates the value of nice things made to last, u10sils will bring you a satisfying experience everyday. We hope you come to love u10sils as much as we do and continue to build healthy habits for yourself and the planet.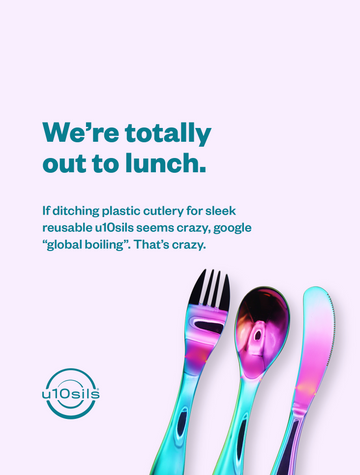 Paper Straws and Wooden Spoons

It's a valiant effort but no one really enjoys soggy paper straws or wooden spoons. u10sils offers a satisfying and reliable eating experience no matter what you're eating.

A Small Move with Big Impact

If wood cutlery and paper straws aren't enough of a reason, let's dig into the plastic islands taking shape in our oceans. Plastic cutlery was invented in the 1950's and you can't deny the toll it's taken.

The Definitive Everyday Cutlery Set

u10sils's stainless steel cutlery is the same size as a plastic set but features wider handles for varied abilities and ages and is available in seven beautiful finishes. With a deluxe dishwasher safe case and a silicone lid that doubles as an oven mitt, u10sils is pretty hard to beat.